2.4G RC Radio Drone Jump High Bounce Car with Flexible Wheels
Jumping Bounce Car Drone
With this drone camera, everything becomes an excuse for stories and adventures. Chases, slaloms, acrobatics, obstacle jumps, photos or videos you've got plenty of choices! What's more? With its onboard camera, you can follow it as if you were there. Experience the amazing sensations in real-time with this mini drone with a camera!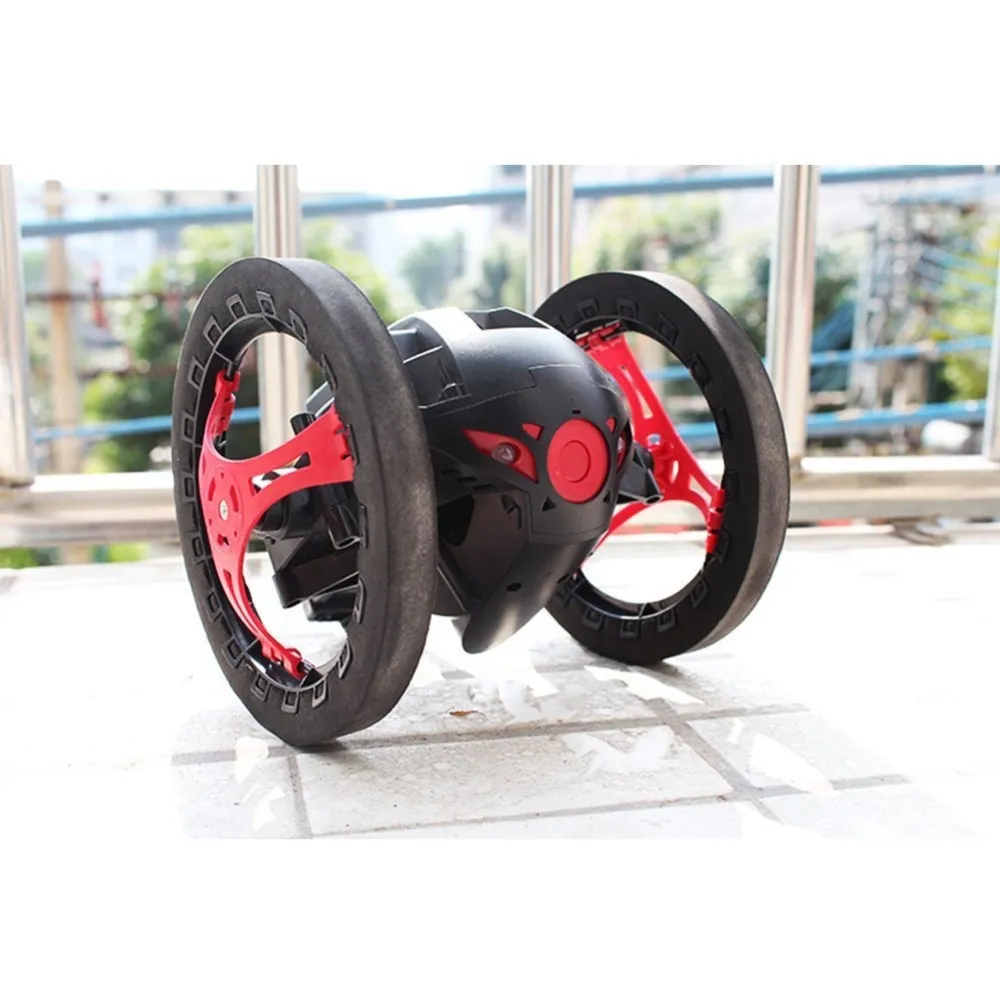 MARVEL AT ITS ACROBATICS
With its ability to take sudden and quick turns, your mini drone can radically change direction, making it the best drone with a camera! Whatever you subject it to, the Jumping Sumo retains excellent grip and road-holding. It's easy to control it with your fingertips and make it perform all of the aerobatic maneuvers you want. It can jump up to 80 cm vertically or horizontally, move forward while hovering and clear its path with springs that can flick objects out of its way.
FLAWLESS ROAD-HOLDING
Quick, sturdy, and agile, this drone camera transforms your environment into a giant playground. Controlling the Jumping Sumo is full of surprises. Spread its wheels for optimized grip at high speeds, or put it into a compact mode for increased agility. What will you choose speed or liveliness?

CHOOSE ITS MOOD
Boasting a strong personality, the Jumping Sumo rolls, slaloms, turns and jumps, and can also react with sounds and lights depending on its mood! You can even plan its course in advance with the Free-Flight 3 application. By using the "Road Plan" feature, program a series of acrobatic movements, sounds, and lights.

IMMERSION VIA THE CAMERA
Equipped with an onboard, wide-angle camera streaming live video to your control screen, you can view the world from new angles 15 cm from the ground! Explore previously inaccessible areas and save all your adventures directly on your Mini USB drive. 
Control Channels: 4 Channels
Frequency: 2.4GHz
Jumping Height: 80cm
Remote Distance: 30-50m
Charging Time: About 45min
Model: SJ80
Scale: 1:30
State of Assembly: Ready-to-Go
Action Time: 15-18min
Controller Battery: 2 x AA 1.5V Batteries (Not Included)
Material: Metal, Resin, Plastic
Age Range: 14+ years old
Size: 260 x 225 x 160 mm / 10.24 x 8.86 x 6.3 inch
Weight: 650 g / 22.93 oz
Note: We provide different colors for your choice